Wow such an enthusiastic response to my
previous post
I'm excited, lets get this QAL started!!
Please feel free to jump in at any time, in any way you like whether it is to watch, make 1 block or a 100, all are welcome.
As a start I would like to discuss fabric choices. The block consists of 41 pieces so naturally there are a ton of choices you can make when it comes to fabric. I can only show so many in one blog post so keep in mind that there are many many more options for you to choose from!
The focus of this post is on the number of different fabrics needed to make up one block and how different layouts effect the overall look of a single block as well as how they will effect the secondary patterns that appear once the blocks are pieced together.
I will not go into colour value in particular as we have covered this already in our
previous QAL
, but of course adding different values as well as different colours and prints will make your blocks really spectacular!!
To make the most out of the pattern I believe a minimum of three different fabrics is best. This is just my personal preference so feel free to ignore me!
Depending on the layout and colour value used you can make certain pattern elements pop or recede into the background and thus create a different effect with each block you make. Below are two examples.
A beautiful example of the Schoenrock Cross using four different fabrics is this one made by
Amy Badskirt
. I love the colours she chose for her block, they are so striking!!
Schoenrock Cross block by Amy @Badskirt
Also on Flickr, I found this amazing cushion made by
Joanne
. She used five prints for her Schoenrock Cross cushion. I love how the colour pallete of Amy and Joanne's block is the same but the effect quite different because of the way they chose to accentuate different elements of the block.
Schoenrock Cross cushion by Joanne @Jo Jo 33
Lets add one more fabric to the mix, this is an example how the block can be made up with six colours\fabrics, there are many more layouts possible of course.
This next stunning cushion was made by
Jennifer
I was very lucky to receive it in the pillow talk swap, I still love it to bits Jen!! Her block is made up with seven different fabrics and unlike the previous examples her block uses a different print for each set of kites in the corner blocks.
Schoenrock Cross cushion made by Jennifer @Sugar Stitches
Most of my blocks done so far use seven prints as well but I used yet another layout with a fabric for each different pattern element. I plan to mix it up a little and do a few blocks with less prints as well.
Sooo many options right
?! I'm hoping these examples demonstrate how amazing this block really is. Whether you go for a minimal approach or take it to town they all look fantastic!
One other thing to consider when choosing fabrics is the secondary pattern that appears once the blocks are pieced together.
Notice how the corner stones make up a new square
in the centre of the kites? If you would consistently make up the blocks with one background colour they will be a plain centre square in the secondary pattern.
But use two or more fabrics and they become a fun new pattern element to play around with.
And with yet more different block layouts added to the mix the outer squares that connect each cross section of the block come into play as well.
Well I think this is enough for today! I hope these examples will be of help with your fabric choices. Just have fun with it and pick some of your favourites to work with and I'm sure you will love the blocks :)
I'll be working on getting those tutorials done as soon as possible, they take a bit of time to prepare so please be patient :) I'm aiming to have the first one up after the weekend.
In the meantime please join me in the
Schoenrock Cross QAL Flickr
group, share your thoughts, plans and fabric choices with us. Don't forget to grab a button on your way out!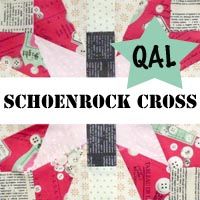 <div align="center"><a href="http://wheretheorchidsgrow.blogspot.nl/" title="Schoenrock Cross QAL"><img src="http://i1291.photobucket.com/albums/b558/WheretheOrchidsGrow/QALbutton_zps76c07bd2.jpg" alt="Schoenrock Cross QAL" style="border:none;" /></a></div>
x Leila